---
Millburn Cemetery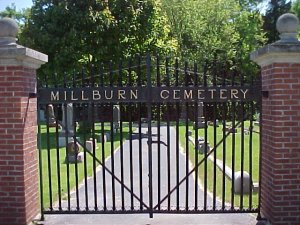 We've been studying our cemetery for several years.
We've developed a list of veterans that are buried here.
Robert Brooks gave a background summary of the cemetery in his 1988 Memorial Day Address. That same day, while visiting her monument, a short biography of Jane Strang McAlister was given.
Beatrice Anderson's scrapbooks contain a history of the cemetery and information about early Memorial Day Services.
We're active in presenting the annual Memorial Day Services in the Cemetery. You can join us at 2:00 p.m. on Memorial Day at the west end of the Cemetery (weather permitting). We have a transcripts of the Memorial Day Services from 1998, 1999, 2000, 2001, 2002, 2003, 2004, 2005, and 2006.
So far as we can tell, there is no publicly available comprehensive listing of the plots and who is buried within.
One of the HMCA's active preservation projects is the restoration of the cemetery fence (restored gates shown in photo at right).
---
William D. Shatswell gave the first land for a cemetery on February 27, 1850. The Millburn Cemetery Association was incorporated August 6, 1883, and made plans to move the remains to this new cemetery and to close the old cemetery. The first directors of the association were John Strang, John Bain, and Ezra Walker.
Substantial improvements were made in 1912, when an elaborate fence was erected by the Smith and Mason families, in memory of their mother. It cost $3,600.
Our cemetery has been vandalized a number of times. On one occasion during the 1980's the vandals were brought to justice.
---
There is considerable confusion between Millburn Cemetery and Mill Creek Cemetery. This entire area of Illinois was once known as the Mill Creek Precinct. The catholic church cemetery was known as the Mill Creek Cemetery. We believe that cemetery is now known as "the Old St. Patrick's Cemetery", and is located in another place altogether.
Please note that we do not own or operate the cemetery.
---