---
Martin's Gen'L Store Museum
Building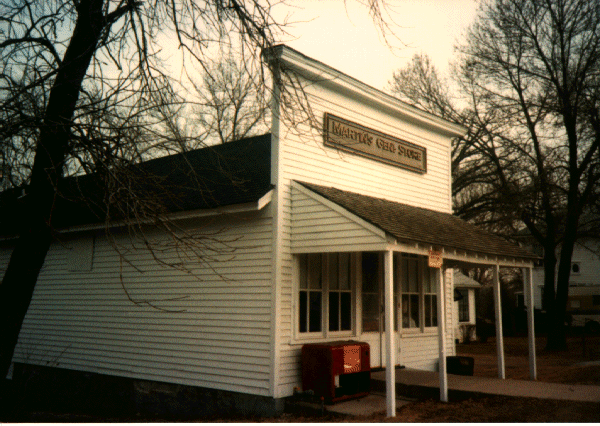 Richard Pantall
was originally a cobbler, whose business had outgrown a small shed just south of this property. In 1862, he purchased approximately three-quarters of an acre of land for $200 and built the front portion of this building where he went into general merchandising .
From 1864-1904, the store was also the Millburn Post Office, Pantall serving as postmaster. Most of the additions to the building -- all of them at the rear of the 1862 structure -- were made by Pantall himself.
Pantall and his wife operated this general store until 1910, at which time Edward Martin, who had been his associate since 1887, assumed the business and conducted it until 1959.
After Martin, a number of merchants operated in the building, the last being an antique store.
In 1979, this building and seventeen other structures in Millburn were placed on the National Register of Historic Landmarks as the Millburn Historic District.
In 1985, Richard Martin, Edward's only child, willed the building to the HMCA with the request that the HMCA organize and operate a 1900's general store museum.
In the fall of 1996, we replaced the wood shingle roof on our museum building with new cedar shingles. In the summer of 1997, we had the exterior of our 130 year old building painted. We're ready to battle the elements.
On December 4th, 2001, about dinner time, our museum building was involved in a traffic accident. An automobile struck the southwest corner causing exhibits and artifacts to be knocked to the floor. (photos)
We closed the museum to visitors for a year while we repaired the building and cleaned and restored those exhibits that we could recover.
The old furnace had to be replaced. We have not yet put in central air conditioning.
The inside of our building has been repainted.
The eastern exposure of our building has had the windows replaced. A replacement exterior door has completed that wall.
---