---
Plat Map - 1885
Millburn Area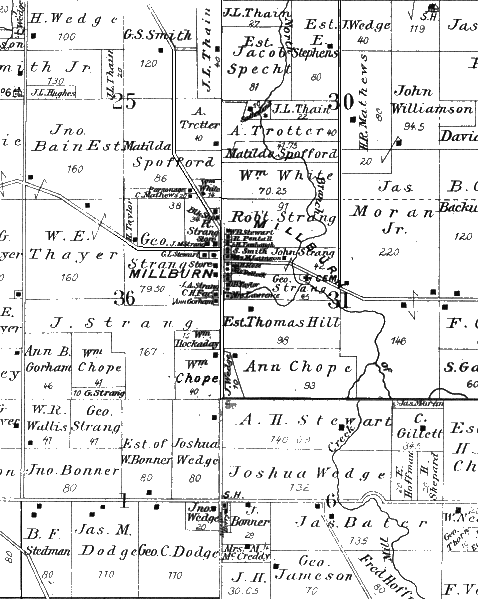 by H. R. Page & Co. Chicago
We've taken this from a plat book at the
Libertyville Public Library, Libertyville, IL.
Their genealogy volunteers have created an index
of all property owners listed in the whole county.
We know that the names are very hard to read in Millburn, so we're listing them here, starting on the right side of the road, just under the "M" in Millburn:
W. B. Stewart
R. Pantall
H. Tombaugh
S. Smith
H. O. Leonard
Mrs. M. Lamson
J. Hughes
Jas. Pollock
H. Rose
J. Jamieson
D. B. Taylor
Mrs. Lawrance
Then down the left side of the road, starting under the large "R":
R. Strang Store
J. M. Strang
G. L. Stewart
Strang Store
J. A. Strang
C. H. Fac
Ann Gorham
Not every house has a name. Some houses indicated are owned by family living next door. We're not sure of the accuracy of the map, with detail to home location and ownership.
---