---
Editor's note: This web only newsletter was not mailed to members of the association.
Web Newsletter -- October, 2005
---
"It started with a ghost story"
"It started with a ghost story. They told me the ghost was Mr. White," Lino Dizon told Ruth White over lunch on Monday, October 24th.

Prof. Lino L. Dizon, head of the Center for Tarlaqueno Studies at the Tarlac State University in the Philippines, was in Millburn for the day to check out the home town of Frank Russell White. Later in the week he presented a paper at the Abraham Lincoln Library in Springfield, Illinois.

When the Millburn area was settled about 1840, three brothers named White came from Scotland to an area just northwest of Millburn. Frank Russell White, grandson of that settling generation, was born on June 8th, 1875. Some time later, the family left Millburn for Lyons, Nebraska. Frank always referred to Millburn as his home.

Frank returned to Illinois and trained as an educator. He was in the Philippine Islands at the time when the Thomas, a shipload of educators, made its way to the islands as a part of our federal government's plan to make English the official language there. These American educators, whether they actually shipped on board the Thomas or not, were collectively referred to as 'Thomasites'.

Frank rose quickly in the ranks of education supervision and became the Governor of Education for the Philippines. He was considered a powerful force in education until his tragic, early death from disease on August 17th, 1913.

Lino's fascination with this ghost named Mr. White has led to his authoring of a book: Mr. White : a 'Thomasite' history of Tarlac Province, 1901-1913: in honor of Frank Russell White. The paper he delivered in Springfield was about this same topic.

Several locations were toured around town during the visit:
The files in our museum were consulted during conversations held there with Ruth White, secretary of the association. Ruth's former husband was Homer White, a descendent of those original three brothers. Unfortunately, we don't have very much information about Frank's branch of the White family in our files. Lino presented the museum with two photographs of Mr. White, one in a group identified as members of the Masonic Order.
Millburn School Superintendent Jim Menzer guided a tour of Millburn School East. Lino was impressed with many of the programs within the school and drew parallels to what he knew about Mr. White's work. Nobody is quite sure which local school Frank actually attended, but Millburn School certainly grew from roots in the community that Frank called his home.
Rev. Jed Watson showed Lino around the Millburn Congregational Church. Access to old church records was discussed, but they are not in a readily accessible format. Jed stated that work would soon begin to pull the records together and index them. He would let Lino know when that work was completed. We know that Frank White attended church here.
Ruth and Lino walked the Home Oaks Cemetery at the corner of Grass Lake and Deep Lake Roads. Several members of the White family are buried there. Studying the stones did not divulge any new information.
Ruth led a driving tour of the countryside, identifying the locations near Millburn that have been referred to during Lino's research. Much of the area is now subdivisions and the original home sites are no longer available.
Lino visited the Antioch Public Library and reviewed microfilm from the period around the death of Frank Russell White in 1913. No new information was found.
Lino sent his thanks by email, saying, "...how important it was for me to be in Millburn, to be in the birthplace of Mr. White...help me thank Dr. Menzer, Rev. Watson, and, of course, Mrs. Ruth White for helping me realize one of the most important trips in my life."
---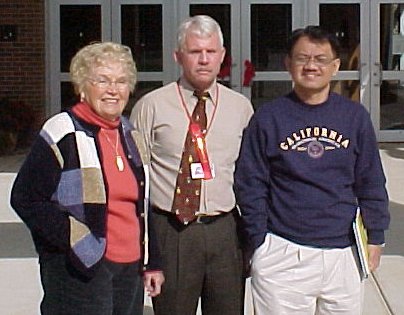 Ruth White, HMCA secretary; Jim Menzer, Supt. of Millburn School; and Lino L. Dizon, taking a tour of Millburn School East.
---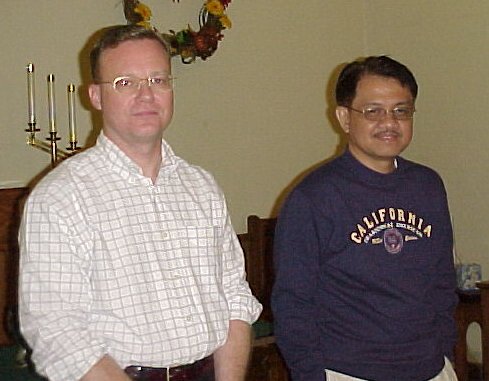 Rev. Jed Watson and Lino Dizon near the altar in the sanctuary of Millburn Congregational Church
---
All rights reserved, Historic Millburn Community Association, Inc. legal stuff
This URL is b1005wo.htm
Last update on 2005Oct30. Contact webmaster with comments.